These small, ceremonious pleasures have roots that reach deep into the past. Easter feasts celebrate the triumph over winter and the hopeful arrival of spring.
On Easter Sunday, people gather around a table, raise their glasses, and toast to health and happiness. With the phrase "Truly, the Lord" accompanying the festivities, each person finds the strength to continue, depending on their perspective. In this article, we will journey through Greece and explore traditional Easter dishes.
The Mououri of Kalymnos
In Kalymnos, an island in Greece, it is customary to prepare a stuffed lamb dish called Mououri for Easter. The lamb is coated externally with a mixture of tomato paste, butter, salt, and pepper. Meanwhile, the stuffing is prepared by boiling finely chopped lamb innards for a short time, then sautéing them with olive oil and onions in a non-stick pan. Tomato paste, salt, and pepper are added, followed by the innards. After a brief cooking period, rice is added with a little extra water, and the mixture is allowed to simmer slightly.
Using a slotted spoon, the lamb is then stuffed and sewn up. The clay pot in which the lamb is placed is called a mououri, from which the dish takes its name. The stuffed lamb is covered with aluminum foil and baked in a traditional wood-fired oven from the evening of Great Saturday until the early afternoon on Easter Sunday. The oven's opening is sealed with mud to retain the heat.
Byzanti in Olympos, Karpathos, and Patoudo in Naxos
A similar tradition takes place in Olympos, Karpathos, where it is known as Byzanti. The unsealing of the oven on Easter Sunday morning sets the stage for a feast that usually lasts until late in the afternoon. During the holiday season, the famous Easter dessert "tourtas" is prepared, consisting of a raised dough filled with sweet pumpkin and dill. Additionally, small, thin cookies shaped like the number eight are made, with a red egg placed on one end.
Naxos, known for its rich poultry farming tradition, serves lamb on Easter Day, specifically a dish called Patoudo. The exceptional quality of the meat, sourced from animals that roam freely on the island, combined with tender spring greens that accompany the rice in the stuffing, results in a delicious and satisfying dish.
The Iconic Lambriatis in Andros
In Andros, the traditional Lambriatis is prepared with young goat meat and a generous stuffing made from fresh island cheeses such as petroti, malachto, and volaki. The stuffing also includes eggs, livers, sweetbreads, and rice. Aromatic herbs like mint and dill provide a balance of flavors with the other ingredients. Finally, the dish is covered with rosemary leaves and ideally baked in a wood-fired oven.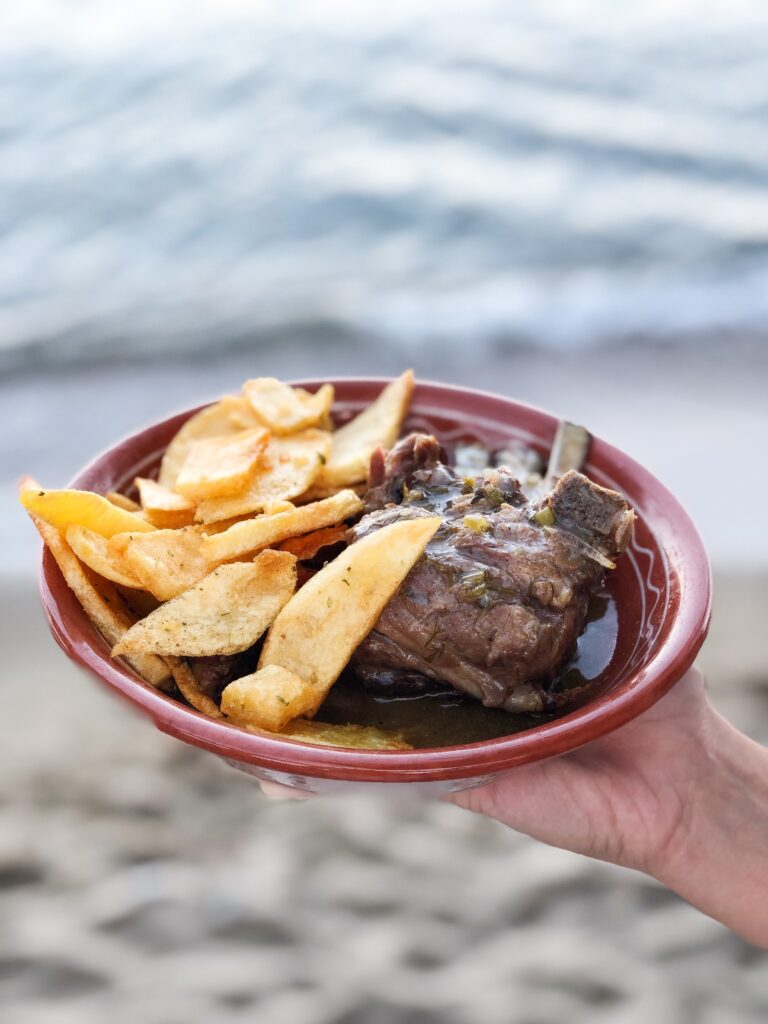 Sgardoumia in Thirasia, Mastelo in Sifnos, and Kefalopoda in Rhodes
On the tiny island of Thirasia, opposite Santorini, Sgardoumia is a popular dish. It consists of goat intestines wrapped around rosemary branches and placed in a casserole dish along with the goat's head and legs. In Sifnos, an island with a rich gastronomic tradition, Mastelo is the main Easter dish. This traditional clay pot imparts a unique taste to the food, using minimal olive oil or butter.
Mastelo is prepared on Holy Saturday afternoon and slow-cooked in a wood-fired oven until Easter morning. Cleaned vine branches are arranged at the base of the pot to create a rack for the meat. The pot is sealed, typically with aluminum foil, and placed in the oven. In Rhodes, Kefalopoda, also known as Roditian Mageiritsa, is a popular dish. This soup is made from the neck, legs, belly, and head of a lamb.
Tzigerosarmas from Thrace
Tzigerosarmas is a demanding yet traditional Easter dish from Thrace. It is made with the innards of animals, such as lambs and goats, combined with spring herbs, primarily mint. These ingredients are wrapped in lamb's caul fat. Sometimes, when available, pork caul fat is used, as it is fattier. In some regions of Macedonia, this preparation is called Papouda.
Lamb and Goat
Lamb and goat serve as the primary ingredients for the Easter meal. Originating from Thessaly and Central Greece, this tradition has spread to every corner of the country, preserving different recipes in each region. Spit-roasted lamb is the most common, but some areas cook lamb in various ways. Different recipes and approaches arise from each region's history and local culture. Apart from the spit, lamb or goat can be found in a pot, in the oven, stuffed, with lemon, or with greens.